BEAT THE PEAK 
Logan County Electric Cooperatives load control program is designed to reduce electric use during peak demand periods when energy costs are highest. In the summer, peak demand occurs as air conditioning strains the electric systems. In the winter, peak demand occurs when temperatures drop to extreme lows and heaters struggle to keep houses warm.
Demand is the usage rate of electricity by a member. As a member uses energy, they increase their kilo-watt hour(kWh) usage. Using one kW in an hour will result in 1 kWh, but the demand increases quicker the more electricity used in a small amount of time. If one kW is used within 15-minutes, the kWh will be increased to 4 kWh. This is the concept of demand, so it is important to put the least amount of strain on the grid during peak alerts, this can be done by spreading energy usage of an hour. 
Peak demand is simply when our members electric consumption is at its highest. At these times power suppliers strain to supply enough electric to meet the demand. Load control shifts the use of electricity from these periods of high demand to periods of lower demand. Thus, taking the strain off of the power suppliers and in doing so helping lower rates.
The price of LCEC's future power cost is based on the five highest demand peaks. When LCEC members work together to lower the peak demand they are working together to lower power cost. The power cost is a straight pass-through from LCEC to our members.
However, the load control program is only successful if members allow the co-op to install a radio-controlled switch (RCS), on their electric water heater or air-conditioning unit. During periods of peak demand Buckeye Power, Ohio's electric cooperatives power supplier, sends a radio signal to active the switch.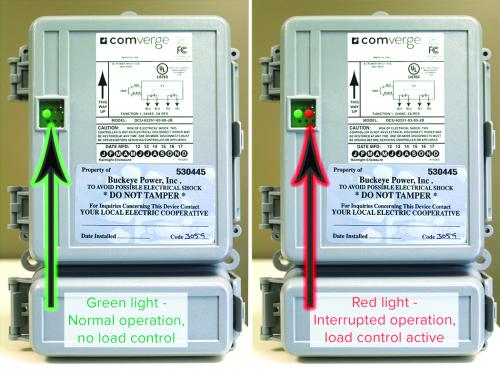 When the switch is activated by Buckeye Power, the flow of electricity is temporarily interrupted. On air-conditioning units, the compressor is cycled off, however, the blower fan will still have power so air will circulate through your home. Your comfort will not be compromised as the indoor temperature should not increase more than a few degrees during load control.
On an electric water heater, the RCS will prevent the heating elements from turning on during the peak alert. Since only hot water heaters that hold more than 40 gallons of water can have a switch installed members should not run out of hot water when the RCS is activated. Though if two showers are taken and a load of laundry is washed you will probably notice the water heater is not operating.
As more co-op members participate in the load control program, more load can be shed during peak demand, and more money can be saved on your future electric bills. To learn how you can participate in the load control program please call the office at 937-592-4781 and talk to a co-op representative.