Rates set by active members
To set electric rates the Logan County Electric Cooperative board of trustees must balance lender financial requirements, paying long-term debt, returning capital credits to members, total margins and equity, depreciation and amortization expenses, operating margins, total assets, and more. This difficult task is one of the reasons why the LCEC trustees attend cooperative director courses. They desire to ensure the best rates are set for LCEC members. Rates that are as low as reasonably practical, yet ensure the long-term health of the cooperative.
Detail of rates for residential and farm single-phase service
Each month residential members receive an electric bill from LCEC that shows the total amount due and a breakdown of charges that make up the total due. These charges are generation and transmission, distribution and basic service charge.
Generation and transmission (G&T), these charges represent the costs associated with producing electricity and moving it across transmission lines to the LCEC substations. The G&T charges are billed to LCEC by Buckeye Power, a generation cooperative that provides wholesale power to Ohio's electric cooperatives. These costs are passed on to our members without being marked up.
The generation and transmission rate is $.07565 per kilowatt-hour (kWh) of electricity. However, this rate is variable due to the fluctuating cost of fuel used in generating electricity and will be adjusted up or down each month so our members only pay the actual cost of the wholesale power.
Basic Service and Distribution, these charges include the costs incurred by LCEC to deliver reliable electricity to our members' homes and farms. The costs to build, operate and maintain LCEC's electrical system, and the costs associated with billing, member service, administration, and general expenses. It's everything it takes for LCEC to bring electricity from our substations to our members.
The basic service charge is a flat monthly fee of $37, and the distribution charge is $.03903 per kWh plus state taxes. These charges ensure that member expectations for reliable power and outstanding member service are met. Further, they provide the funds that are invested in the electric system to maintain the quality, reliability and integrity of service that our members deserve.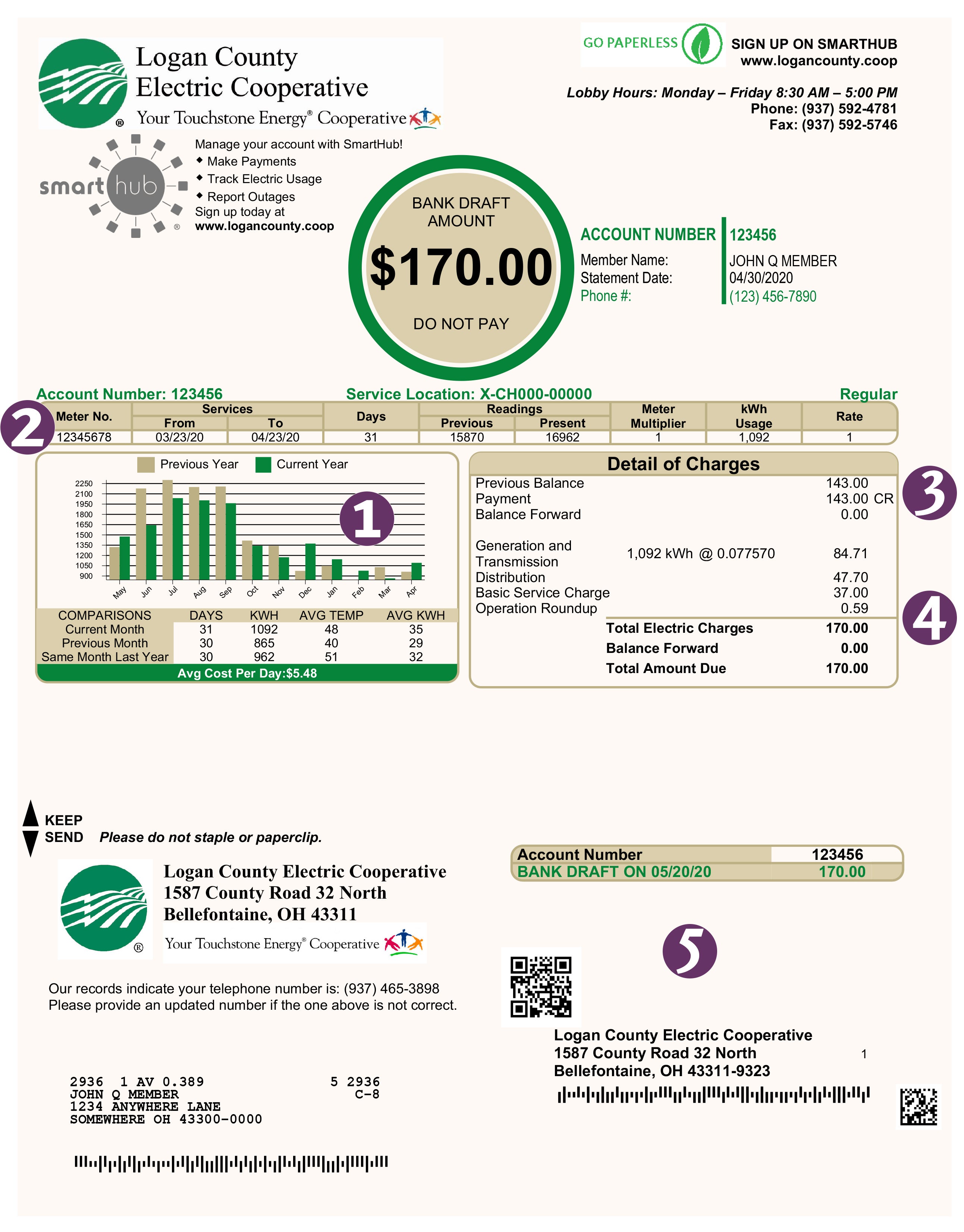 1. Usage details — current and historical electric use
2. Location and meter — service information and figures used to calculate your bill
3. Payment summary — prior payment
4. Current charges — itemization of charges incurred during the current billing cycle
5. Remittance stub — return this portion with your payment